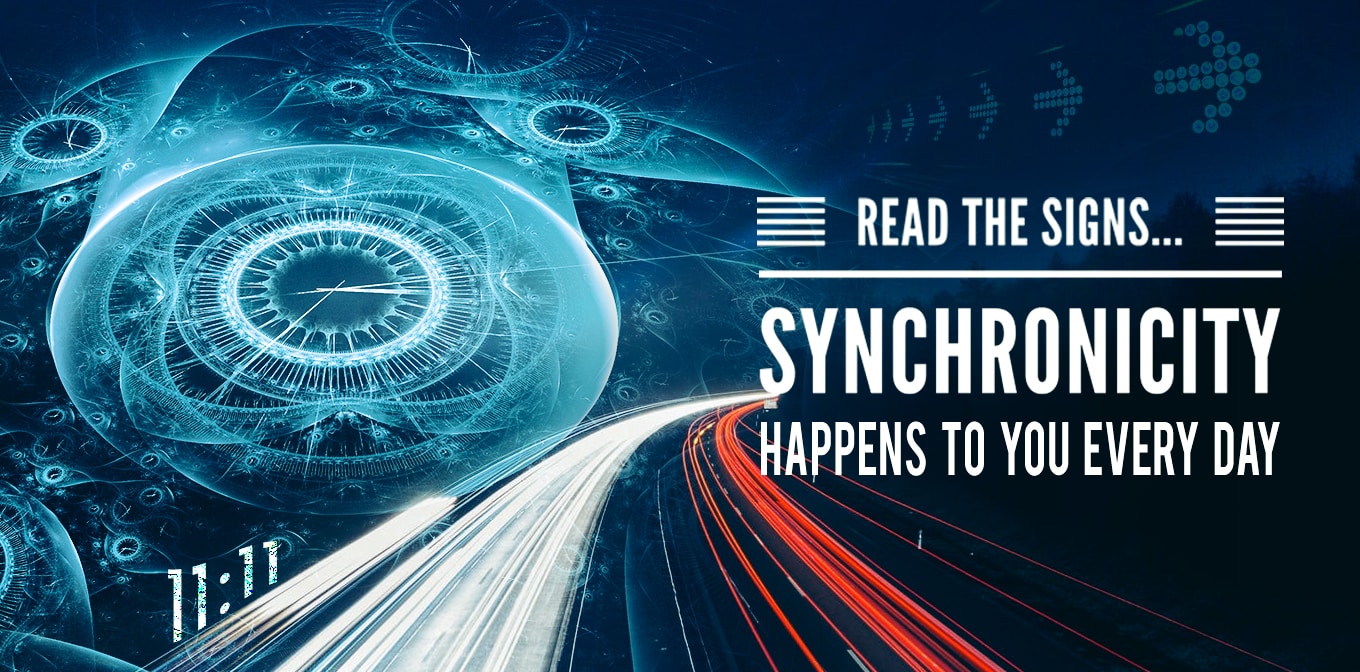 Read The Signs… Synchronicity Happens To You Every Day
The concept of Synchronicity was introduced in the 1920s by Carl Jung. Synchronicity basically guides your experiences and more importantly, your life. If you have something that happens to you and you think that it was a lucky coincidence, you can bet that coincidence or luck had nothing to do with it. Instead, it was synchronicity, the concept that things happen for a specific reason. Granted, those reasons may not always be exactly what you want them to be but they are exactly what you need. In addition, you might start to entertain the idea that it is sometimes possible to create synchronicity. In fact, you might be surprised at just how far your positive thinking and your enthusiasm for certain things can take you. Just as a wildfire creates its own weather, your passion for something, coupled with sheer willpower, can create a particular situation.
There Are No Coincidences
It is interesting to try to understand why so many people attribute things that happen to them to coincidence. Perhaps it is because it is easier to say that something was a coincidence or a lucky chance, but things truly happen for a specific reason even if you aren't aware of it. Sometimes that reason is to teach you a lesson and sometimes it is to help you achieve something that you have been working towards for years. Most of the time, you are just a small part of what is going on and the bigger picture may have a lot more to do with what is happening around you than it does with you as a single individual.
Examples of Synchronicity
Have you ever been late getting to a particular location, only to find out that there was a huge wreck that happened right where you would have been if you had been on time? Perhaps you were doing something that you never wanted to do in the first place, such as working a particular job, only to find that your presence there helped to accomplish something that would change your life forever, making it far better than you could have ever dreamed. In other words, you were exactly where you were supposed to be in both cases. By the same token, you have probably had the experience on at least one or two occasions where you just happened to find yourself in a rather unlikely situation where you had the chance to help someone else. You were exactly where you were supposed to be during those moments, too. In these synchronicity examples, you truly start to realize that there is something more at work than mere coincidence.
Creating Synchronicity
As previously mentioned, you can create synchronicity when you are passionate enough about something. Look at it this way. You might think that you are incapable of doing something until you find yourself in a situation where you have so much desire to succeed that you allow all of your insecurities and doubts to fall by the wayside. Before you know it, you are achieving exactly what you had not been able to achieve in the past. You can also create your own synchronicity by thinking positively about a particular subject. The point is, this can help you create your own reality because you are thinking about what you want and visualizing it, thereby making it much more likely that it will come to fruition. This is the law of attraction at work. Your thoughts and feelings that you put out into the world have a powerful effect. You want to be sure that they are the right ones.
In closing, you can look back on your life and see the many different examples of synchronicity. Think of it as someone looking out for you. Rest assured, nothing ever happened by mere chance alone. If it happens, there is a reason for it. By the same token, there is a reason that you might find yourself in a particular location or situation, even when that is not what you originally intended. It all comes down synchronicity and the fact that everything does indeed happen for a reason.
What do you think about synchronicity ? Do you witness it in your daily life ? Please let us know in the comments below.