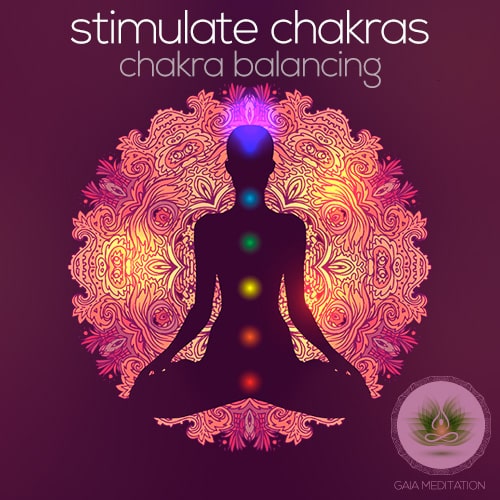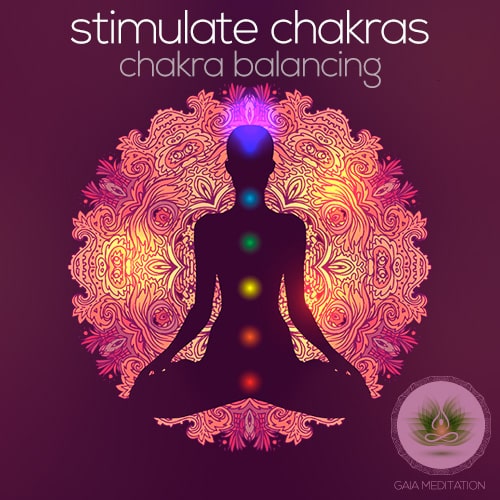 Stimulate Chakras
$9.97
Tune your Chakras. Balance your 7 life force energy centers.
Duration: 35 min
432 Hz
With or without isochronic tones (Alpha, Beta, Gamma waves)
Sounds: water stream, birds, light breeze, soft wind, sitar, bansuri flute, balafon, tablas, warm strings, angelic voices
Description
The Chakras are energy centers located in specific parts of your body. Your vital energy directly flows through your Chakra system and bring harmony among your physical body, mental state and spirit.
This Chakra music was designed to clean and stimulate your seven Chakras. The structure of this audio track reflects the structure of the Chakra system: each Chakra corresponding to a body part, a color and a music note.
As we progress from the first to the seventh Chakra, the texture and frequency range of the background sounds, instruments and percussions will gently switch from low and rhythmic elements to treble, melodious, airy and cosmic ones. The music parts will become more and more abstract. The isochronic tones will take you from the Alpha state to the Beta state and eventually to the Gamma state (1).
Root Chakra (5 min)
Color : Red
Root Note / Isochronic Tones: C (Do) – 8 Hz (alpha) (1)
Body Parts : Base of the spinal column, kidneys
Close your eyes, relax and connect yourself to the Earth. The low percussions, the very deep sounds and the mystic sound of the sitar will start to work nicely on the Root Chakra. You will feel a powerful grounding energy. The sitar's reverb uses the impulse response from the Taj Mahal, which creates a spiritual atmosphere. Stimulate this Chakra to release your physical energy and feel alive.
Sacral Chakra (5 min)
Color : Orange
Root Note / Isochronic Tones : D (Re) – 9 Hz (alpha) (1)
Body Parts : Behind the belly button, reproductive system, gonads
Water is the element associated to this Chakra, as it releases life energy. Here, the music evokes sensuality, pleasure, sweetness and feminity.
Solar Plexus Chakra (5 min)
Color : Yellow
Root Note / Isochronic Tones : E (Mi) – 10 Hz (alpha) (1)
Body Parts : Below the sternum, stomach, liver, pancreas
Witness the power of the sun and receive its light. Feel the joy and fullness to the sound of the bansuri flute and the warmth of the strings. Cleaning this Chakra increases emotions.
Heart Chakra (5 min)
Color : Green
Root Note / Isochronic Tones : F (Fa) – 10.5 Hz (alpha) (1)
Body Parts : Same level as the heart but in the center of the body, blood, circulatory system
Birds are flying in the sky, singing along with the romantic strings. Feel the soft air on your skin and fill your heart with love and compassion. Purification of this Chakra releases the love of life, the love of self and others.
Throat Chakra (5min)
Color : Blue
Root Note / Isochronic Tones : G (Sol) – 12 Hz (alpha) (1)
Body Parts : Base of the throat, thyroid, lungs, vocal chords
Picture yourself on a high mountain with light breeze caressing your face. You're reaching the ether. The sky is clear blue. You start to hear divine chants. You feel happiness and inner peace. Working on this Chakra will help you create and communicate as it is the Chakra of expression.
Third Eye Chakra (5min)
Color : Indigo
Root Note / Isochronic Tones : A (La) – 13 Hz (beta) (1)
Body Parts : Between the eyebrows, eyes, lower brain
The soft and airy music resonates in the infinite starry sky. Closer to the indigo space, you can hear the echoes of crystalline sounds and flutes. You develop wisdom, visualization, and intuition.
Crown Chakra (5min)
Color : Violet
Root Note / Isochronic Tones : B (Si) – 15 Hz (beta) and 40 Hz (gamma) (1)
Body Parts : Top of the head, upper brain
Closer to the infinity, closer to silence, all you can hear is angelic voices, which are taking you to a state of expanded consciousness (Gamma brain state) (1). A cosmic atmosphere and a divine Light surround you. Release the power of the Kundalini, the transcendental energy flowing within you and feel a cool breeze blowing.
This audio track will help tuning, cleansing and healing your Chakra system, hence your body, mind and soul. You will eventually get a feeling of pure bliss.
(1) If your audio contains isochronic tones, it will drive your brain activity in the desired state in a more effective way.
Note:
A bell rings to indicate the transition between each Chakra.
This audio is tuned to the universal frequency A=432 Hz, the true harmonic intonation of nature. This tuning provides powerful healing benefits.
Use:
Headphones: not required but recommended.
Best Time To Listen: anytime, but never while operating machinery, driving or performing other hazardous activities (especially for audios embedding binaural beats or isochronic tones). If your audio induces Gamma or Beta waves: never listen before going to sleep.
For Personal Use.
Additional information
| | |
| --- | --- |
| Duration | 35 min, 2x 35 min |
| Format | |
| Sound Frequency | |
| Brainwave Entrainment | |
| Brainwave | |
| Isochronic Gap | 8 Hz, 9 Hz, 10 Hz, 10.5 Hz, 12 Hz, 13 Hz, 15 Hz-40 Hz |
| Sound | |
| Audio Format | High-Quality MP3 320 Kbps |
| Files Size | 84.4 MB, 2x 84.4 MB |
All sales are protected by Clickbank.
Immediate Direct Download
60 Day Money Back Guarantee
100% Risk Free Order
If for any reason whatsoever you are not satisfied with your purchase, we'll refund your money, no question asked.
Please note that your purchase will appear on your bank statement under the name of the Product retailer: "CLKBANK*COM" (not Gaia Meditation, nor the Product name).
ClickBank is the retailer of this product. CLICKBANK® is a registered trademark of Click Sales, Inc., a Delaware corporation located at 917 S. Lusk Street, Suite 200, Boise Idaho, 83706, USA and used by permission. ClickBank's role as retailer does not constitute an endorsement, approval or review of this product or any claim, statement or opinion used in promotion of this product.
Need Help?